JOHANNESBURG —
South Africa's Constitutional Court has ordered President Jacob Zuma to repay some of the $16 million in public funds used for upgrades at his private home. The ruling Thursday comes as authorities investigate Zuma for another more recent scandal, alleged undue influence given to the wealthy Gupta family.
Handing down the Constitutional Court judgment on Thursday, Chief Justice Mogoeng Mogoeng said President Zuma violated the constitution when he ignored the public protector's order to pay back some of the money used to build non-security features at his private home.
"The failure by the president to comply with remedial action taken against him by the public protector in her report of 19 March 2014 is inconsistent with Section 83 (b) of the constitution and is invalid," Mogoeng said.
The court gave the National Treasury 60 days to determine how much Zuma should pay. Mogoeng said once the court receives the Treasury's report, Zuma will have to pay.
"The president must personally pay the amount determined by the National Treasury within 45 days of this court's signification of its approval of the report," Mogoeng said.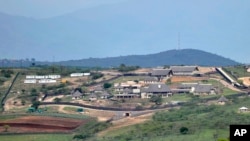 FILE - A Sept. 28, 2012, photo shows the private compound homestead of South African President Jacob Zuma in Nkandla, in the northern KwaZulu Natal province South Africa.
ANC also draws fire
The court also had harsh words for the National Assembly where the ruling African National Congress allegedly shielded Zuma from paying back the money.
"The resolution passed by the National Assembly absolving the president from compliance with the remedial action taken by the public protector is invalid and is set aside," Mogoeng said.
The Democratic Alliance Party and the Economic Freedom Fighters Party have pledged to impeach Zuma and remove him from office for violating the constitution.
Both the ANC and President Zuma have issued statements welcoming the judgment, saying they respect it.
Political analyst Levy Ndou said Zuma's fate is in the hands of the majority ANC Party in parliament.
"If they come out clearly and say the state president has breached his oath of office, that will provide sufficient reasons for parliament to move for a motion of no confidence on the state president," Ndou said.
The judgment has created more problems for the already embattled president. The country's elite police unit is also investigating Zuma's son for allegedly helping the wealthy Gupta family influence the appointment of ministers.
The probe follows claims by some government officials that people involved with the Gupta family's extensive business holdings offered them ministerial posts. The ruling ANC is also investigating, which analysts say could further hurt President Zuma's standing.