Cyclone Idai
Kenya Evictions COVID-19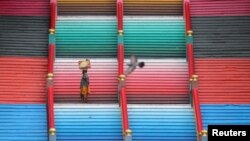 WASHINGTON —
WASHINGTON - The White House distanced itself Wednesday from a new attack on the handling of the coronavirus pandemic by Dr. Anthony Fauci, the top U.S. infectious disease expert, even though a newspaper opinion article mirrored some of the same thoughts as those of President Donald Trump.
White House trade adviser Peter Navarro said in an opinion piece in the USA Today newspaper that Fauci "has a good bedside manner with the public, but he has been wrong about everything I have interacted with him on."
See all News Updates of the Day
Airlifts Provide Lifeline for Isolated Mozambican Town After Cyclone
The Mozambican town of Buzi has been virtually cut off from the outside world after Cyclone Idai hit in March and washed away the major roads and bridges into the region. VOA's Brian Padden reports that humanitarian organizations have to airlift or ship by boat needed supplies.
Beira Mayor Sets Example for Cholera Prevention
Mozambique kicked off its campaign to vaccinate nearly 900,000 survivors of Cyclone Idai against cholera, in Beira, Wednesday. Beira's Mayor Daviz Simango was among those who swallowed the oral vaccine. Overall the campaign aims to vaccinate some 884,000 people in Beira, Dondo, Nhamatanda and Buzi.
Mozambique's Cyclone Survivors Face Rising Threat of Cholera
Mozambique's government and aid agencies have launched a cholera vaccination campaign Wednesday in the port city of Beira to treat nearly a million people affected by Cyclone Idai. The health officials are in a rush to stop the disease that has claimed the lives of at least two people.
Marvellous Mhlanga-Nyahuye
Zimbabwean Raises Almost $100,000 for Cyclone Idai Victims
A Zimbabwean based in Ohio, United States, has raised nearly $100,000 through a crowd-funding application, Gofundme, after initially setting a target of only $10,000, for people hard-hit by Cyclone Idai which devastated the country's Manicaland region and some parts of Masvingo province.