WASHINGTON DC —
U.S. news outlets reported FIFA President Sepp Blatter is under investigation in the United States in connection with the corruption scandal involving football's governing body.
News that Blatter, 79, is the target of probes by federal prosecutors and the FBI came hours after he abruptly resigned his post during a news conference in Zurich.
Blatter, who was just re-elected to a fifth term as FIFA president last Friday, acknowledged that he did not "have a mandate from the entire world of football – the fans, the players, the clubs, the people who live, breathe and love football as much as we all do at FIFA."
He admitted that "FIFA needs a profound restructuring," and pledged his commitment to that goal.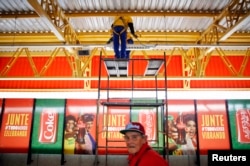 FILE - Workers fix lighting above advertising posters of FIFA sponsors outside a metro station near the World Cup stadium in Sao Paulo.
Sponsors praise decision

Many of FIFA's multimillion-dollar sponsors praised Blatter's decision to step down. U.S. soft drink maker Coca-Cola said it was "a positive step for the good of sport, football and its fans."

Chung Mong-joon, the billionaire heir of South Korea's Hyundai conglomerate and a former member of FIFA's executive board, announced Wednesday in Seoul he is considering running for the FIFA presidency.
Blatter has ordered an extraordinary congress of the football federation to choose a new president, and said he will retain his presidential powers until then.
Election of a new FIFA president apparently will take months. Experts expect a vote could take place between December of this year and March 2016.
A combination of file pictures made on May 27, 2015 shows Fifa officials (LtoR, from upper row) Rafael Esquivel, Nicolas Leoz, Jeffrey Webb, Jack Warner, Eduardo Li, Eugenio Figueredo and Jose Maria Marin
The announcement capped a turbulent week for FIFA, which began last Wednesday when FBI agents and Swiss police raided a meeting of the federation's top leaders in Switzerland and arrested seven officials and held them for extradition to the U.S. on corruption charges.
The seven are among a total of 14 people indicted by the U.S. Justice Department on charges of racketeering, wire fraud and money laundering in a scheme that prosecutors say involved sports media executives paying or agreeing to pay more than $150 million in exchange for marketing rights to tournaments.

Interpol, the global law enforcement agency, issued international alerts Wednesday for two former FIFA officials and four corporate executives in connection with the U.S. probe. Among those who are under "red notices" are Jack Warner, a former FIFA vice president and former president of regional governing body CONCACAF, and Nicolas Leoz, an ex-member of FIFA's executive committee.
Money laundering, bribery
Swiss authorities have also launched a separate investigation against a group of individuals suspected of mismanagement and money laundering in connection with awarding the 2018 World Cup to Russia and the 2022 tournament to Qatar.
An investigation has also been launched into allegations of bribery involving $10 million in payments by Blatter's top lieutenant in connection with South Africa's successful bid to host the 2010 World Cup.