Special Drought Report
Zimbabwe Says Grain Stocks Running Out As Severe Drought Grips Nation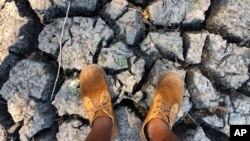 HARARE (Reuters) - Zimbabwe has only 100,000 tonnes of grain in its strategic reserves, enough to last just over a month, as the southern African nation suffers the effects of a severe drought, according to the agriculture minister.
More than half the country's population faces food shortages after maize harvests halved last year. The country has received little rain since the summer planting season started in November, and crops are wilting in some areas.
Agriculture minister Perrance Shiri told officials in Bulawayo, southwest Zimbabwe, on Wednesday that the government should help farmers cope with drought by building more irrigation infrastructure.
"As things stand at the current moment, we have less than 100,000 (metric tonnes) of grain in the strategic grain reserve and imports, especially of food, are ballooning," he said in a speech seen by Reuters.
The grain reserve has capacity to hold 500,000 tonnes but it has been run down after a poor harvest. Zimbabwe consumes 80,000 tonnes of maize every month.
Finance Minister Mthuli Ncube has said Zimbabwe needs to import at least 800,000 tonnes of maize this year, mainly from Tanzania, South Africa and South America.
The country's grain millers group says it has bought 100,000 tonnes of maize from South Africa and Brazil and expects the first consignment to arrive next week.
Shops are running out of subsidised maize meal while prices of basic goods soar. Zimbabwe is in the midst of its worst economic crisis in a decade, dashing hopes for a quick recovery under President Emmerson Mnangagwa's government.
The United Nations World Food Programme needs $200 million to feed 4.1 million Zimbabweans after saying the country faced another poor harvest this year because of sparse rains.
"We need to build the capacity of our farmers to be resilient to climate change shocks and stresses such as drought, floods, crop and livestock diseases, among others," Shiri said.
Reporting by MacDonald Dzirutwe; Editing by Katya Golubkova
See all News Updates of the Day
Argentina Beats Brazil 1-0 to Win Copa America, 1st Major Title in 28 Years
Argentina won their first major title in 28 years on Saturday and Lionel Messi finally won his first medal in a blue-and-white shirt when an Angel Di Maria goal gave them a 1-0 win over Brazil and a record-equaling 15th Copa America.
Di Maria, starting for just the second time in the Copa, justified his selection by scoring the opener midway through the first half.
Renan Lodi failed to cut out a long ball forward from Rodrigo De Paul and Di Maria lobbed the stranded Ederson with aplomb.
Brazil piled on the pressure in an exciting second half but even with five strikers on the field they could not get an equalizer against an Argentine defense protected by the outstanding Rodrigo De Paul.
"First, we have to congratulate our opponents especially for the first half when they neutralized us," Brazilian defender Thiago Silva said.
"In the second half, there was no contest -- only one team tried to play football, the other just wasted time as we knew they would. It's not an excuse, we didn't do what we had to, principally in the first half."
Argentina's win was a particular triumph for Barcelona striker Messi, who picked up his first-ever title in a blue-and-white shirt after more than a decade of club and individual honors.
The Argentine players surrounded their captain at the final whistle. Goalkeeper Emilian Martinez celebrated what he called a Maracanazo, a remarkable win at the famous Rio stadium.
"I'm speechless," he said. "I knew my dream would come true, and where better than the Maracanazo and giving the title to the best in the world and fulfilling his dream."
Messi finished the tournament's joint top goal scorer with four goals and was elected joint best player along with Neymar.
But he was quiet throughout the game at the Maracana stadium and uncharacteristically missed a golden opportunity to wrap the game up with 2 minutes remaining.
When the final whistle went, Argentina TV declared "Argentina Champions, Lionel Messi Champion!"
The match itself was a disappointing one, with Argentina the better side in a cagey first half that featured 21 fouls.
However, Brazil came out more aggressively in the second period and as the time ticked on, they threw more people forward -- and at one point having five recognized strikers on the field.
Richarlison had a goal chalked off for offside 7 minutes into the second half and then forced Emiliano Martinez into a good stop 2 minutes later.
But as Brazil poured forward gaps opened up and Argentina missed two clear chances to score in the dying moments of the match.
The victory was Argentina's 15th Copa America triumph and means they draw level with Uruguay as the all-time leading winners.
"This is a very big title," Argentine coach Lionel Scaloni said. "I hope that Argentines can enjoy it. The fans love the team unconditionally and I think they identify with this side that never drops its guard."
Their win extended their sequence of undefeated matches to 20 under Scaloni and handed Brazil their first competitive defeat since they lost to Belgium in the quarterfinals of the 2018 World Cup.
Food Deliveries ...
The World Food Program has sourced food supplies for some people in Matabeleland region facing a devastating drought. Thousands of people are now having one meal a day in some parts of the country. The drought has decimated more than 34,000 livestock. (Video: Albert Ncube)
Harare Resident Surviving Amidst Zimbabwe Economic Crisis
A Harare resident says people should find some means of making a living amid a serious economic crisis in the country, once regarded as southern Africa's breadbasket. (Video: Mlondolozi Ndlovu)
Farai: We Are All Hustling in Zimbabwe
A Harare resident, who identified himself only as Farai, tells VOA Zimbabwe correspondent Mlondolozi Ndlovu that most local people are struggling to make a living due to the current harsh economic situation in the country. (Video: Mlondolozi Ndlovu)
Cheap as Bread, Girls Sell Sex to Survive Crisis in Africa
LONDON (Thomson Reuters Foundation) - Young girls in southern Africa are selling sex - sometimes for less than the cost of bread - to survive a hunger crisis ensnaring tens of millions, aid agencies said on Thursday.
In Angola, girls of 12 sell themselves for as little as 40 cents to feed their families as the south of the country faces its worst drought in four decades, World Vision said.
The United Nations says a record 45 million people in southern Africa face hunger amid a "silent catastrophe" caused by repeated drought, widespread flooding and economic chaos.
World Vision said staff had seen a significant increase in girls resorting to transactional sex in Angola and Zimbabwe amid "huge levels of desperation".
Robert Bulten, World Vision's emergencies director in Angola, told the Thomson Reuters Foundation a girl might get 500 kwanzas ($1) for sex - enough to buy about a kilo of beans or two kilos of maize - but could get as little as 200 kwanzas.
"We definitely know there's an increase. It's difficult to quantify because it's taboo ... but I would say a significant number (are doing this)," he said.
"We're talking about girls between 12 and 17."
Bulten said the price of some staples had doubled since last year. With the next harvest not due until June, he predicted hunger would worsen.
In Zimbabwe, CARE International said there were reports of girls as young as 14 resorting to selling sex, especially en route to South Africa and near goldmines.
"Sometimes they earn as little as 5 RGT ($0.31) for one sexual encounter, which is really awful ... it's not even enough to buy a loaf," said CARE's regional gender expert Everjoy Mahuku.
ActionAid regional advisor Chikondi Chabvuta said women and girls "on the edge of survival" were forced into transactional sex in Mozambique and Malawi.
Swathes of southern Africa have experienced their lowest rainfall since 1981, according to the United Nations, which says the crisis is fuelled by climate change as temperatures in the region rise at about twice the global rate.
Other countries affected include Zambia, Madagascar, Namibia, Lesotho and Eswatini.
Aid workers said many of the girls would normally be in school. In some cases, they had dropped out because of deepening family poverty, but many schools had also closed.
World Vision's Bulten said the crisis in southern Angola had also increased the incidence of rape and child marriage.
Girls were at heightened risk of rape while walking long distances for water or foraging in forests, he said.
Families struggling to make ends meet may marry girls off early so they have one less mouth to feed, but Bulten said sometimes it was to keep them out of the prostitution.
The International Federation of Red Cross and Red Crescent Societies said the crisis had driven up child marriage in Zimbabwe, Zambia, Lesotho and Namibia.
Reporting by Emma Batha @emmabatha; Editing by Lyndsay Griffiths.