America Votes 2020
Bringing More Diversity to US Ballots Is Both Goal and Challenge
The shifting demographics of the United States are creating more impetus to field political candidates of color — including newer Americans.
"Well, it's been a priority for both parties, including the Republican Party, for a long time," said Alex Conant, a Washington-based Republican strategist who served as press secretary for his party's national committee in 2008.
Democrats have been better at promoting racial and ethnic minorities, he says, though, as Politico reported in July, the party establishment years ago had to be prodded to accept Black candidates outside of heavily Black districts.
Republicans likely will "try even harder in the future," Conant said. "We're a big, diverse country. If you're going to win elections, it helps to come from communities or represent communities that are casting the votes. … And that includes recruiting more Black candidates."
But how do aspiring politicians of color — especially those who are relative newcomers to America — get onto a ballot?
Candidate training is essential, says Naquetta Ricks, who is among at least a score of first- and second-generation Americans from Africa seeking elective offices — from local boards and city councils to the U.S. Senate.
Ricks is running for a seat in Colorado's House of Representatives. She received guidance from several organizations, including New American Leaders, which is nonpartisan, and Emerge, which prepares women to run as Democrats.
"So they taught us how to raise money, how to present yourself, how to come up with your stump speech," Ricks said. "And all of these things are important so that when you're out there, you're taken seriously, and people are listening."
Naquetta Ricks, a Liberia native seeking office in Colorado, says candidate training taught her skills such as fundraising (Skype/VOA)
Ricks was a girl when she and her family fled a violent military coup in Liberia. A small-business owner, single mother and immigrant, she wants to amplify voices from her district, which includes the Denver suburb of Aurora.
"It is a very diverse community," she said. "One out of every five persons will say that they are from another country, whether you are from China or Burma or South America or Africa. We're from everywhere."
Campaign workers need guidance, too, says Davisha Johnson. Four years ago, she opened a boutique consulting agency near Atlanta, Georgia. It's in Gwinnett County, where the populations of Blacks and immigrants — including of Africans — have surged since the 1990s.
"So I realized I needed to create a pipeline for them to be able to get trained, educated," she said of prospective candidates.
To learn how to run a campaign, Johnson signed up for "a lot of different political training. … And then I got a lot of first-hand experience." She has helped boost a handful of candidates into public offices, from county commission to the Georgia Superior Court to statehouses in Georgia and Tennessee.
'It can be done'
Candidates who are relatively new to the U.S. face extra hurdles in campaigning.
"You have to be able to raise a lot of money," said Conant, the Republican strategist. "And I think first-generation immigrants might not have a network of donors that somebody who is more established might have.
"Similarly, they might just not be as well known. They haven't lived in the U.S. as long" and might not be as well connected as their competitors, he said.
"However, we do see a lot of first-generation immigrants running for office and winning office," Conant said. "… So definitely it can be done, even if it is a bit of an uphill fight."
Candidates with ties to the African continent can tap into the diaspora, Johnson says.
"One of the huge strengths of Africans is they have people power," she said. "The No. 1 thing, outside of money, is that you have to have support. People back home are saying, 'Hey, I have a cousin in Maryland. I have people in Texas.' Now you have people for these phone banks. You have people to do text message banks. You have people to get out to the polls on Election Day."
Yet significant obstacles remain.
The coronavirus pandemic has curtailed campaigning for all candidates, a challenge especially for first-time contenders trying to introduce themselves to prospective voters.
Also, across the country, candidates of color "are still battling lingering effects of systemic racism — including skewed perceptions of 'viability,' tougher fundraising and some hesitation from the party establishment," Politico reported in July.
But this election cycle also has brought heightened awareness of racial inequality, which Kojo Asamoa-Caesar says has benefited his campaign to unseat Republican incumbent Kevin Hern as one of Oklahoma's representatives in Congress.
'People rallied behind us'
Widespread demonstrations following the death of George Floyd, a Black man fatally injured during a police arrest in Minneapolis, Minnesota, in May, "coincided with a lot of energy in our campaign … coming mostly from white women. And so those people rallied behind us, and we were able to win the primary."
Asamoa-Caesar, an educator born in the United States to parents from Ghana, is the first Black Democrat and Ghanaian American to be nominated from his district. It includes the city of Tulsa, which is re-examining its history of a 1921 massacre of African American residents.
No matter what happens this Election Day, the experience of seeking office can be instructive for any future campaign.
"Look," strategist Conant said, "anyone who's considering running should run. The only way you get better at being a candidate is by running."
VOA Africa Division contributors include Ayen Bior, James Butty, Peter Clottey, Esther Githui Ewart, Carol Guensburg, Sahra Eidle Nur and Venuste Nshimiyimana.
See all News Updates of the Day
Barr: No Evidence of Fraud That Would Change Election Outcome
Attorney General William Barr said Tuesday the Justice Department has not uncovered evidence of widespread voter fraud that would change the outcome of the 2020 presidential election.
His comments come despite President Donald Trump's repeated claims that the election was stolen, and his refusal to concede his loss to President-elect Joe Biden.
In an interview with The Associated Press, Barr said U.S. attorneys and FBI agents have been working to follow up specific complaints and information they have received but uncovered no evidence that would change the outcome of the election.
"To date, we have not seen fraud on a scale that could have affected a different outcome in the election," Barr told the AP.
The comments are especially direct coming from Barr, who has been one of the president's most ardent allies. Before the election, he repeatedly raised the notion that mail-in voting could be especially vulnerable to fraud during the coronavirus pandemic, as Americans feared going to polls and instead chose to vote by mail.
Last month, Barr issued a directive to U.S. attorneys across the country allowing them to pursue any "substantial allegations" of voting irregularities, if they existed, before the 2020 presidential election was certified, despite no evidence at that time of widespread fraud.
That memorandum gave prosecutors the ability to go around long-standing Justice Department policy that normally would prohibit such overt actions before the election was certified. Soon after it was issued, the department's top elections crime official announced he would step aside from that position because of the memo.
The Trump campaign team led by Rudy Giuliani has been alleging a widespread conspiracy by Democrats to dump millions of illegal votes into the system with no evidence. They have filed multiple lawsuits in battleground states alleging that partisan poll watchers did not have a clear enough view at polling sites in some locations and therefore something illegal must have happened. The claims have been repeatedly dismissed, including by Republican judges who have ruled the suits lacked evidence. Local Republicans in some battleground states have followed Trump in making similar unsupported claims.
Trump has railed against the election in tweets and in interviews, though his own administration has said the 2020 election was the most secure ever. Trump recently allowed his administration to begin the transition over to Biden but has still refused to admit he lost.
The issues Trump's campaign and its allies have pointed to are typical in every election — problems with signatures, secrecy envelopes and postal marks on mail-in ballots, as well as the potential for a small number of ballots miscast or lost.
But they have also requested federal probes into the claims. Attorney Sidney Powell has spun fictional tales of election systems flipping votes, German servers storing U.S. voting information and election software created in Venezuela "at the direction of Hugo Chavez" — the late Venezuelan president who died in 2013. Powell has since been removed from the legal team after an interview in which she threatened to "blow up" Georgia with a "biblical" court filing.
Barr did not name Powell specifically, but said, "There's been one assertion that would be systemic fraud, and that would be the claim that machines were programmed essentially to skew the election results. And the DHS and DOJ have looked into that, and so far, we haven't seen anything to substantiate that," Barr said.
He said people were confusing the use of the federal criminal justice system with allegations that should be made in civil lawsuits. He said such a remedy for those complaints would be a top-down audit conducted by state or local officials, not the U.S. Justice Department.
"There's a growing tendency to use the criminal justice system as sort of a default fix-all, and people don't like something they want the Department of Justice to come in and 'investigate,'" Barr said.
He said first, there must be a basis to believe there is a crime to investigate.
"Most claims of fraud are very particularized to a particular set of circumstances or actors or conduct. They are not systemic allegations. And those have been run down; they are being run down," Barr said. "Some have been broad and potentially cover a few thousand votes. They have been followed up on."
Biden Names Top Economic Officials
U.S. President-elect Joe Biden on Monday named his top officials to deal with the country's coronavirus-ravaged economy, including former Federal Reserve chair Janet Yellen to be the first woman to lead the Treasury Department in its 231-year history.
In addition, Biden named Neera Tanden, currently president of the Center for American Progress, a liberal Washington public policy research and advocacy group, as director of the government's Office of Management and Budget. If confirmed by the Senate, Tanden would be the first woman of color and first South Asian American to head the agency.
Biden also named Wally Adeyemo, a longtime economic policy official, to be Yellen's deputy, the first African American to hold the second-ranking position at the Treasury Department.
The president-elect named labor economist Cecilia Rouse, dean of Princeton University's public and international affairs school, as chair of the White House Council of Economic Advisers. She would be the first Black and the fourth woman to hold the job.
Biden picked two other economists – Jared Bernstein and Heather Boushey – as members of the economic council.
"As we get to work to control the virus, this is the team that will deliver immediate economic relief for the American people during this economic crisis and help us build our economy back better than ever," Biden said in a statement.
The coronavirus pandemic has wrought significant damage on the U.S. economy, the world's largest.
Many of the 22 million jobs lost as the virus swept into the United States from China and Europe have been recovered. While the number of layoffs of workers totaled in the millions several months ago, for much of October and November, more than 700,000 newly unemployed workers filed for unemployment compensation, even now a level unseen in records that date to the 1960s.
Biden's latest appointments underscore the incoming president's promise to create a top rung of officials that demographically "looks like America," one staffed with numerous female appointees and people of color. Biden's nominees for top positions contrast the largely white, male-dominated roster of top officeholders in the outgoing administration of President Donald Trump.
On Sunday, Biden and Vice President-elect Kamala Harris named an all-woman communications team, to be headed by campaign communications director Kate Bedingfield and Jen Psaki as press secretary.
Biden received his first President's Daily Brief on Monday, gaining access to the report prepared by the U.S. intelligence community on national security issues the United States faces.
Biden is preparing to take office at his inauguration as the 46th U.S. president on January 20. He holds an unofficial 306-232 vote lead in the Electoral College, which determines the outcome of U.S. presidential elections, not the national popular vote, although Biden leads there, too, by more than 6 million votes.
The state-by-state vote in the Electoral College is set for December 14, with Congress certifying the outcome in early January.
Biden's transition to the presidency officially began last week after a government agency declared him the apparent winner of the November 3 presidential election.
Trump, however, is continuing his long-shot legal effort to upend Biden's victory even as the president says he will abide by the Electoral College outcome.
Trump has refused to concede defeat while claiming, without evidence, that the election was rigged against him.
Trump and his campaign have lost or withdrawn more than 30 lawsuits claiming vote and vote-counting irregularities, but they are appealing at least one of the verdicts against him to the U.S. Supreme Court.
Arizona Certifies Narrow Biden Victory
Officials in Arizona on Monday certified President-elect Joe Biden's narrow win over President Donald Trump in the southwestern state, continuing Biden's string of victories in states where Trump has been unsuccessful in proving he lost because of voter fraud.
Biden won the state's 11 electoral votes by more than 10,000 votes, the first time a Democratic presidential candidate has won the traditionally Republican state since 1996.
Arizona Secretary of State Katie Hobbs, a Democrat, certified the state's election results, but was flanked at the announcement by two Republicans, Gov. Doug Ducey and state Attorney General Mark Brnovich.
"This election was conducted with transparency, accuracy and fairness in accordance with Arizona's laws and election procedures, despite numerous unfounded claims to the contrary," Hobbs said.
Ducey said, "The pandemic and COVID-19 brought new unprecedented challenges for our state. But as I said before, we do elections well here in Arizona. The system is strong, and that's why I have bragged on it so much."
Even with the certification of the vote, however, Trump's supporters in Arizona are still challenging the outcome.
Kelli Ward, chairwoman of the state Republican Party, has asked a court to allow her to begin inspecting mail ballots and envelopes, contending that poor signature verification may have allowed fraudulent votes to be counted.
The Arizona vote certification also clinched the victory for former astronaut Mark Kelly, a Democrat, in a U.S. Senate race against incumbent Republican Sen. Martha McSally. Kelly is expected to be sworn in on Wednesday.
Biden is preparing to take office January 20 at his inauguration as the 46th U.S. president. He holds an unofficial 306-232 vote lead in the Electoral College, the process by which the U.S. presidential elections are determined. Biden also leads Trump in the popular vote by more than 6 million votes.
Wisconsin Ballot Recount Affirms Biden Win Over Trump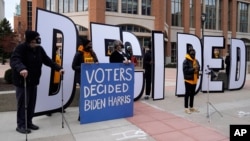 U.S. President-elect Joe Biden gained 87 votes in Wisconsin as a partial recount of ballots cast was completed Sunday, cementing his 20,000-vote victory over President Donald Trump in the Midwestern political battleground state.
The Trump campaign paid $3 million for the recount of the 800,000 votes in the two most heavily Democratic areas of the state, in Wisconsin's biggest city of Milwaukee and in Madison, the state capital, in hopes of upending Biden's claim to the state's 10 electoral votes.
Instead, however, Wisconsin became the latest state where Trump, a Republican, has failed in recounts to overturn the November 3 vote favoring his Democratic challenger or win lawsuits alleging vote and vote-counting fraud cost him a second four-year term in the White House.
Biden holds an unofficial 306-232 advantage in the Electoral College that determines the outcome of U.S. presidential elections, not the national popular vote, although Biden leads there, too, by more than 6 million votes.
Biden is set to be inaugurated as the country's 46th president on January 20, and, at 78, its oldest leader. Last week, he named his first Cabinet nominees and plans to announce the names of key economic officials this week.
The Electoral College balloting occurs on December 14, with the largest states casting the most votes. Trump said last week he would leave the White House when his term ends, if Biden, as expected, wins the Electoral College vote.
Trump has yet to concede the election, and his campaign has lost more than 30 lawsuits contesting the outcome in key states.
Ahead of the outcome of the recount in Wisconsin, Trump said Saturday on Twitter, "The Wisconsin recount is not about finding mistakes in the count, it is about finding people who have voted illegally, and that case will be brought after the recount is over, on Monday or Tuesday. We have found many illegal votes. Stay tuned!"
But in Dane County, where Madison is located, election official Scott McDonell said the recount uncovered no instances of fraud and that the second look at the vote count there should "reassure" the public about its accuracy.
Trump, however, continued his unfounded accusations about irregularities in the election in a Sunday interview with Fox News's Maria Bartiromo.
"Joe Biden did not get 80 million votes," Trump contended. "I got 74 million votes, and everybody thought it was over" on Election Night.
"And then all the mail-in voting started happening," he said. "This election is a total fraud."
Democrats supporting Biden, by millions more than Republicans voting for Trump, cast mail-in ballots that often were counted in the days after the election, in some instances because state laws did not permit them to be counted until after polls closed.
Without evidence, Trump alleged, "They stuffed the ballot boxes, you know that. How come there are thousands of dead people voting?"
"My mind will not change in six months," he concluded. "There was tremendous cheating."
Trump said his campaign is pursuing appeals of lawsuits he has lost to the U.S. Supreme Court.
Increasingly, Republican officials, although hardly all of them, are acknowledging Biden's victory.
On Sunday, Republican Missouri Senator Roy Blunt, who is overseeing the inauguration planning at the U.S. Capitol, told CNN, "We're working with the Biden administration, the likely administration, on both the transition and the inauguration as if we're moving forward," although he stopped short of acknowledging Trump lost the election.
Governor Asa Hutchinson of Arkansas is one of a few Republicans to refer to Biden as the president-elect.
"The transition is what is important. The words of President Trump are not quite as significant," Hutchinson told "Fox News Sunday."
Pennsylvania High Court Rejects Lawsuit Challenging Election
Pennsylvania's highest court on Saturday night threw out a lower court's order preventing the state from certifying dozens of contests on its Nov. 3 election ballot in the latest lawsuit filed by Republicans attempting to thwart President-elect Joe Biden's victory in the battleground state.
The state Supreme Court, in a unanimous decision, threw out the 3-day-old order, saying the underlying lawsuit was filed months after the expiration of a time limit in Pennsylvania's expansive year-old mail-in voting law allowing for challenges to it.
Justices also remarked on the lawsuit's staggering demand that an entire election be overturned retroactively.
"They have failed to allege that even a single mail-in ballot was fraudulently cast or counted," Justice David Wecht wrote in a concurring opinion.
The state's attorney general, Democrat Josh Shapiro, called the court's decision "another win for Democracy."
President Donald Trump and his lawyer, Rudy Giuliani, meanwhile, have repeatedly and baselessly claimed that Democrats falsified mail-in ballots to steal the election from Trump. Biden beat Trump by more than 80,000 votes in Pennsylvania, a state Trump had won in 2016.
The week-old lawsuit, led by Republican U.S. Rep. Mike Kelly of northwestern Pennsylvania, had challenged the state's mail-in voting law as unconstitutional.
As a remedy, Kelly and the other Republican plaintiffs had sought to either throw out the 2.5 million mail-in ballots submitted under the law — most of them by Democrats — or to wipe out the election results and direct the state's Republican-controlled Legislature to pick Pennsylvania's presidential electors.
In any case, that request — for the state's lawmakers to pick Pennsylvania's presidential electors — flies in the face of a nearly century-old state law that already grants the power to pick electors to the state's popular vote, Wecht wrote.
While the high court's two Republicans joined the five Democrats in opposing those remedies, they split from Democrats in suggesting that the lawsuit's underlying claims — that the state's mail-in voting law might violate the constitution — are worth considering.
Commonwealth Court Judge Patricia McCullough, elected as a Republican in 2009, had issued the order Wednesday to halt certification of any remaining contests, including apparently contests for Congress.
It did not appear to affect the presidential contest since a day earlier, Gov. Tom Wolf, a Democrat, had certified Biden as the winner of the presidential election in Pennsylvania.
Wolf quickly appealed McCullough's decision to the state Supreme Court, saying there was no "conceivable justification" for it.
The lawsuit's dismissal comes after Republicans have lost a flurry of legal challenges brought by the Trump campaign and its GOP allies filed in state and federal courts in Pennsylvania.
On Friday, a federal appeals court in Philadelphia roundly rejected the Trump campaign's latest effort to challenge the state's election results.
In that lawsuit, Trump's campaign had complained that its observers had not been able to scrutinize mail-in ballots as they were being processed in two Democratic bastions, Philadelphia and Allegheny County, which is home to Pittsburgh.
Trump's lawyers vowed to appeal to the Supreme Court despite the judges' assessment that the "campaign's claims have no merit."