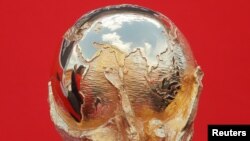 Just 10 days after the 2019 Africa Cup of Nations came to an end in Cairo, Egypt, the first round of African qualification for the 2022 FIFA World Cup in Qatar has been drawn.
The draw, featuring the 28 lower ranked African teams, saw Burundi being drawn against Tanzania, two of the teams that participated in the Africa Cup of Nations earlier this summer.
Both teams failed to go past the group stage after losing all three matches.
Other regional derbies are Botswana versus Malawi, Mauritius against Mozambique and the all-West African affair between neighbors Liberia and Sierra Leone.
Somalia will take on Zimbabwe.
CAF Deputy General Secretary Anthony Baffoe assisted Khaled Nassar of the CAF Competitions Department to conduct the draw at the CAF Headquarters in Cairo, Egypt.
The two-legs will be held between 2nd and 10th September, 2019, with the winners joining the 26 top-ranked teams for the group stage.
Complete fixtures is as follows:
Ethiopia v Lesotho
Somalia v Zimbabwe
Eritrea v Namibia
Burundi v Tanzania
Djibouti v Eswatini
Botswana v Malawi
Gambia v Angola
Liberia v Sierra Leone
Mauritius v Mozambique
Sao Tome e Principe v Guinea-Bissau
South Sudan v Equatorial Guinea
Comoros v Togo
Chad v Sudan
Seychelles v Rwanda
(SNTV)